Week of April 15, 2019
Congratulations to John and Jennifer Bower, of Lebanon, owners of Domino's Pizza, on receiving the 2019 United Way of Lebanon County Community Commitment Award!
April 16 is Tax Freedom Day!
On April 16, 105 days into the year, we will celebrate Tax Freedom Day, the day when the nation's taxpayers as a whole have earned enough to pay their total tax bill for the year. Americans will pay $3.4 Trillion in federal taxes and $1.8 Trillion in state and local taxes, for a total bill of over $5.2 Trillion, or 29 percent of the nation's income.
Bills Pass Senate, Go to House
All bills passed unanimously.
Senate Bill 144 – establishes a Keystone Telepresence Education Grant;
Senate Bill 372 – updates and modernizes the History Code;
Senate Bill 399 – establishes the Sexual Assault Survivors' Bill of Rights;
Senate Bill 425 – amends the PA Crime Victims Act to align with federal law;
Senate Bill 431 – strengthens the PA Rape Shield Law to protect victims from irrelevant cross-examination;
Senate Bill 469 – applies the existing Tender Years Exception to those with intellectual disabilities or autism;
Senate Bill 479 – applies the existing Tender Years Exception for out-of-court statements to include additional serious sexual offenses.
Bill Unanimously Passes Senate, Goes to Governor
House Bill 264 – creates a system of financial best practices for municipal authorities.
Executive Nominations Unanimously Approved by the Senate
State Board of Accountancy – David W. Stonesifer, Sinking Spring
Health Policy Board – Jodie B. Szlachta, Havertown
Municipal Police Officers' Education and Training Commission – Vincent J. DiCenzo, Jr., North Versailles
Major General, PA Air National Guard – Michael J. Regan, Jr., Gilbertsville
Brigadier General, PA Air National Guard – Claudia S. Malone, Sellersville
Brigadier General, PA Army National Guard – Edwards S. Little, Jr., of Etters and the 48th Senatorial District; Jeffrey S. Heasley, Fallston, and; Michael E. Wegscheider, Boyertown
Major General, PA Army National Guard – Mark J. Schindler, of Fredericksburg and the 48th Senatorial District, and Mark D. McCormack, Reinholds
State Board of Nursing – Linda A. Kerns, Philadelphia
State Board of Certified Real Estate Appraisers – John D. Ausherman, Chambersburg
Board of Trustees of Warren State Hospital – Mary E. Kushner, Pittsfield
Senate State Government Committee Activity
The Senate State Government Committee, which I chair, held a confirmation hearing to consider the re-nomination of Curt Topper as the Secretary of the PA Department of General Services. The committee unanimously voted to recommend Secretary Topper to the Senate Rules & Executive Nominations Committee with a favorable recommendation.
The committee also held a voting meeting to consider Senate Bills 22, 48 and 178. Senator Boscola and my SB 22 as introduced this session is the same language that was meticulously vetted last session MINUS a controversial amendment to change how judges are elected. This legislation is a constitutional amendment to establish an independent citizens' commission for legislative and congressional redistricting. While this version of SB 22 isn't likely to be the final form, it at least restarts the process to amend Pennsylvania's Constitution. SB 22 was reported from the committee to the full Senate by a vote of 6-4.
Senator Gordner's SB 48 was recently the topic of a three-hour public hearing of the Senate State Government Committee relating to the Wolf Administration's planned decertification and replacement of voting machines in every precinct of every county across the Commonwealth. SB 48 was also reported to the full Senate by a vote of 6-4.
And, Senator Browne's SB 178, which amends the PA Election Code to require electronic filing of campaign finance reports, was unanimously reported to the full Senate. You can watch the entire confirmation hearing and voting meeting below.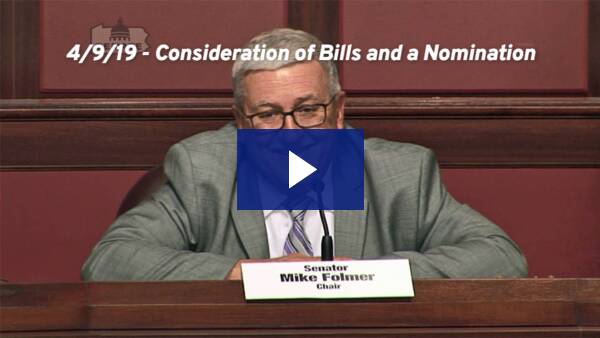 Firearms Deer Season to Open on Saturday after Thanksgiving
The PA Game Commissioners voted 5-3 this week to open PA's firearms deer season the Saturday after Thanksgiving (November 30) rather than the Monday after Thanksgiving. Moving the opening day to Saturday creates a 13-day season that includes three Saturdays.
According to the Game Commission, they received and reviewed a plethora of public comment, and hunters' opinions were split. Many of those supporting the move to a Saturday opener said they are unable to hunt on a Monday opener because they are unable to take off work or school. Many of those who supported staying with a Monday opener cited logistical concerns with traveling to their hunting camps during the Thanksgiving weekend.
The Commissioners who voted to maintain the Monday after Thanksgiving opener included James Daley, District 1, Tim Layton, District 4, and Michael Mitrick, District 6. The Commissioners who voted to move to the Saturday opener included Dennis Fredericks, District 2, Scott Foradora, District 3, Charles Fox, District 5, Stanley Knick Jr., District 7, and Brian Hoover, District 8. To read the rest of the highlights from the meeting, including fluorescent orange requirements, Chronic Wasting Disease management, Hegins-Gratz Valley Wild Pheasant Recovery Area, snare locks, and more, click here.
PennDOT to Pave US 422 Bridge Approaches in Lebanon City
The PA Department of Transportation (PennDOT) began paving the approaches to the US 422 bridge over the Quittapahilla Creek in Lebanon City. Travelers may encounter single-lane restrictions with flaggers alternating traffic through the work zone during overnight hours as crews conduct the final Superpave asphalt wearing course paving. Work is expected to conclude over the next few weeks. US 422, locally known as Cumberland Street, averages nearly 9,000 vehicles traveled daily.
Spotted Lanternfly Informational Session
THANK YOU PA Department of Agriculture (PDA) Secretary Russell Redding and State Plant Regulatory Official Dana Rhodes for a recent informative presentation on the Spotted Lanternfly in Myerstown, Lebanon County. If you missed it, you can watch below.
The Spotted Lanternfly is the worst invasive pest since the introduction of the gypsy moth nearly 150 years ago. It was found for the first time in the United States in Berks County, PA in 2014, and has since spread throughout 13 counties currently under quarantine: Berks, Bucks, Carbon, Chester, Dauphin, Delaware, Lancaster, Lebanon, Lehigh, Monroe, Montgomery, Northampton, Philadelphia and Schuylkill.
The quarantine gives PDA the authority to regulate the movement of commodities that may be within or leaving the quarantine zone. It restricts the movement of articles that contain any life stages of the Spotted Lanternfly, including egg masses, nymphs and adults. All businesses are required to take an online training course designated to help them recognize the Spotted Lanternfly and prevent its movement, after which they will receive a permit from PDA.
This insect threatens about $18 Billion in agricultural products in PA, and can make outdoor areas unusable by excreting a sticky substance called honeydew, which serves as a host for sooty mold. Please help spread the word and engage in efforts against the Spotted Lanternfly by using the hotline 1-888-4BADFLY (1-888-422-3359), where you can get further information and report a sighting.