Week of May 6, 2019
SR 99 Declaring Andrew Askin Day in Pennsylvania
I was incredibly honored to introduce Senate Resolution 99, declaring March 4, 2019 as "Andrew Askin Day" in PA. I introduced SR 99 this week and had special guests in the Senate to observe its adoption, who will be honoring Andrew by unveiling a headstone for him at Midland Cemetery in Swatara Township, Dauphin County, in the 48th Senatorial District, at a Memorial Day Program on May 25. The historic Midland Cemetery is the resting place for slaves, free-men, United States Colored Troops, Buffalo Soldiers, Tuskagee Airmen and numerous leaders in the area's African American community.
Andrew Theodore Askin was a Mess Attendant 3rd Class who served on active duty from June 20, 1917 to June 14, 1918. He died at the age of 22, 100 years ago, in the line of duty at sea with the entire crew of the U.S.S. Cyclops, which was never found. The crew has two dates of death: March 4, 1918, the date the ship was lost, and June 14, 1918, when the Assistant Secretary of the Navy, Franklin D. Roosevelt, declared the U.S.S. Cyclops to be officially lost.
Andrew was born in Baltimore, Maryland, but resided with his mother for a part of his life on Main Street, Steelton. He was remembered by the Veterans of the Civil War, Spanish American War and World War I when they organized the segregated Andrew Askin American Legion Post 479 in Steelton, and this Resolution is one more way we can remember and honor Andrew.
Special guests visiting the Senate to observe the adoption of this Resolution included: Barbara Barksdale, Founder and President of The Friends of Midland and the Cemetery's caretaker; Swatara Township Police Department Public Safety Director Darrell Reider; retired Brigadier General Wilbur E. Wolf III, friend and support of Midland Cemetery; Captain Robert Williams Jr. representing the Navy, and; Deneen Diggs from Defense Logistics Agency Distribution. Watch my introduction of SB 99 and guests here.
Left to right: Deneen Diggs, Captain Robert Williams Jr., Senator Mike Folmer, Barbara Barksdale, Darrell Reider and retired Brigadier General Wilbur E. Wolf III.
Bills Pass Senate, Go to House
All bills passed unanimously unless otherwise noted.
Senate Bill 48 – (27-21) delays the impending mass decertification of current voting machines until there's broader agreement between the Governor and General Assembly on both the need and how to pay for the costs;
Senate Bill 110 – prohibits filing another ordinance or petition for Home Rule for four years after any Home Rule question was defeated;
Senate Bill 133 – (46-2) amends the PA Constitution to allow gubernatorial candidates to select their own running mate for Lieutenant Governor;
Senate Bill 316 – allows training reimbursement for newly elected township supervisors;
Senate Bill 317 – changes the process for passing a second class township budget;
Senate Bill 440 – codifies a three-year pilot program for Flexible Instructional Days.
Executive Nominations Unanimously Confirmed by the Senate
Adjutant General of PA: Anthony J. Carrelli, North Wales
Secretary of Agriculture: Russell C. Redding, Gettysburg
Secretary of Conservation and Natural Resources: Cynthia A. Dunn, Camp Hill
Secretary of Drug and Alcohol Programs: Jennifer S. Smith, of Jonestown, Lebanon County, in the 48th Senatorial District
Secretary of General Services: Curt M. Topper, Lititz
Secretary of Health: Rachel L. Levine, of Middletown, Dauphin County, in the 48th Senatorial District
Insurance Commissioner of PA: Jessica K. Altman, Harrisburg
State Planning Board: Alexander J. Graziani, Greensburg
Secretary of Revenue: C. Daniel Hassell, Harrisburg
Secretary of Transportation: Leslie S. Richards, Lafayette Hill
Bills Signed into Law by the Governor
Act 3 – Senate Bill 9 – designates the Eastern Hellbender the official amphibian of PA;
Act 4 – House Bill 264 – creates a system of financial best practices for municipal authorities.
Senate State Government Committee Public Hearing
The Senate State Government Committee, which I chair, held a public hearing on election law legislation this week. If you missed it, you can find the agenda and testimony here, and watch the entire hearing below.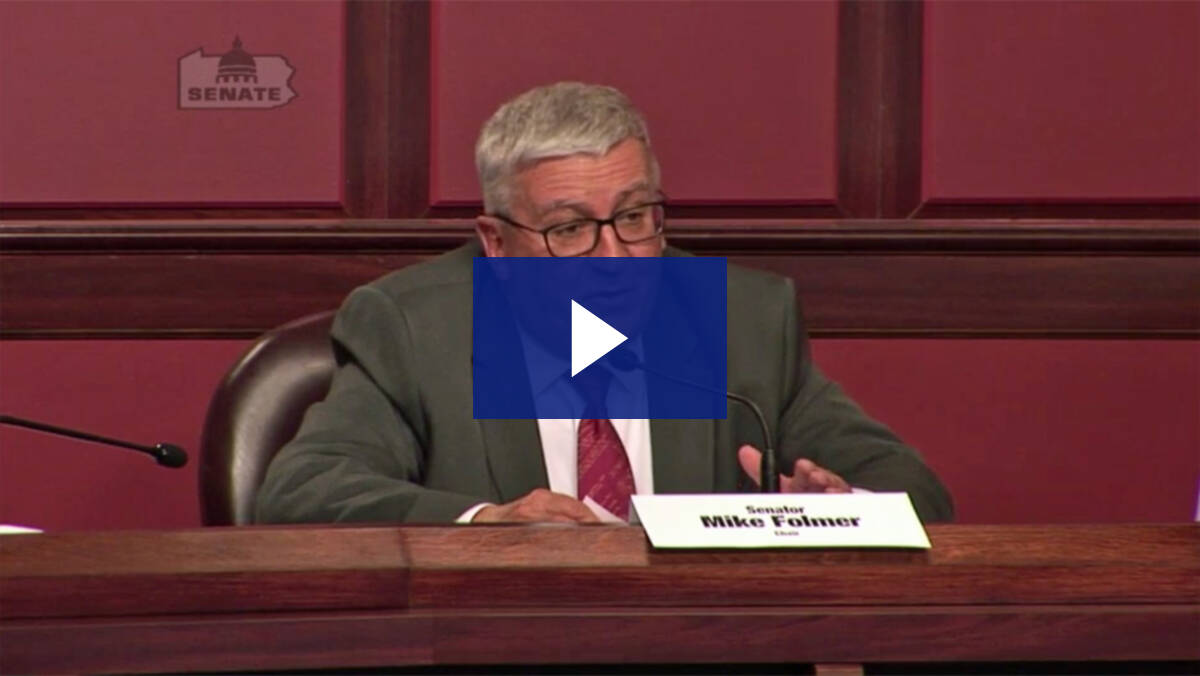 Constituent Highlight: John Noll, Jennifer and John Bower
Congratulations to John Noll, who was recently honored with the Leon Hoover Entrepreneurial Spirit Award by the Lebanon Valley Chamber of Commerce during its Small Business Awards Luncheon. John is a veteran of the United States Navy, serving our country with honor and distinction for more than six years, including a deployment to Afghanistan. After completing his military service, he opened Swatara Coffee Company in Jonestown with his wife, Joanna.
John strives to be as environmentally friendly and eco-conscious as possible by sourcing his products from local businesses and farms, using recyclable and compostable products and partnering with the PA Resources Council to identify sustainable business practices. He is dedicated to providing a place for community and fellowship, hosts game and craft nights, and fundraising events for local organizations.
John and Jennifer Bower were also honored at the Lebanon Valley Chamber of Commerce's Small Business Awards Luncheon, where they were honored as the Small Business Persons of the Year! John began his tenure with Domino's Pizza in high school as a delivery driver and after completing college accepted a Manager position in Williamsport where he met his wife, Jennifer. John opened his first Domino's franchise in Lebanon in February 2000, and he and his wife purchased their own building in 2014.
The Bowers are dedicated to giving back to the community and are members of the Community of Lebanon Association, where John serves as Vice President, and Jennifer is a member of several committees. Additionally, Jennifer serves as Chair of the Sexual Assault Resource Counseling Center's Lebanon Community Council, and is a member of its Board of Directors.
Any definition to a full and productive life must include service to others, and through John, Jennifer and John's initiatives to benefit their community, and by personal example, they all are shining examples of community spirit whose many contributions are worthy of deep gratitude and respect!