June 10, 2019
Senate State Government Committee Confirmation Hearing
The Senate State Government Committee, which I chair, held a confirmation hearing on June 4 to consider the nomination of Kathy Boockvar as the Secretary of the PA Department of State. The Committee voted to report her to the Senate Rules & Executive Nominations Committee with "no recommendation." If you missed it, you can watch below.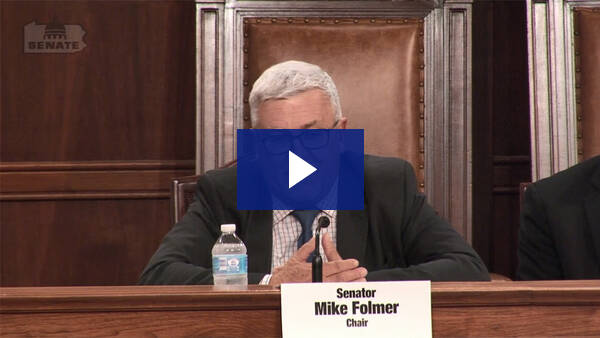 Bills Pass Senate, Go to House
All bills passed unanimously unless otherwise noted.
Senate Bill 139 – (31-17) amendments to the Price gouging Act;
Senate Bill 275 – ensures strangulation convictions are considered in sentencing for subsequent crimes and custody proceedings;
Senate Bill 500 – creates a County Adult Probation and Parole Advisory Committee (Justice Reinvestment Initiative);
Senate Bill 501 – streamlines placement in State Intermediate Punishment and paroling those who receive a short prison sentence (Justice Reinvestment Initiative);
Senate Bill 502 – streamlines how victims receive information and compensation (Justice Reinvestment Initiative);
Senate Bill 589 – establishes an education program for families of PA National Guard members (the PA Family GI Bill).
Bills Pass Senate, Go to Governor
Both bills passed unanimously.
Senate Bill 115 – requires CPR instruction for high school students;
House Bill 275 – changes the name of the Early Intervention Program to the Strategic Management Planning Program.
Executive Nominations Confirmed by the Senate
All nominations were confirmed unanimously unless otherwise noted.
Secretary of Aging – Robert Torres, of Middletown and the 48th Senatorial District
Secretary of Community and Economic Development – Dennis Davin, Pittsburgh (47-1)
Secretary of Corrections – John E. Wetzel, Mechanicsburg (47-1)
Secretary of Environmental Protection – Patrick W. McDonnell, Harrisburg (46-2)
Secretary of Human Services – Teresa D. Miller, Harrisburg
State Police Commissioner – Robert Evanchick, Harrisburg
Bill Signed into Law by the Governor
House Bill 279 – Act 5 – provides civil immunity for forceful entry into a vehicle when necessary to rescue a child in danger.
Taxpayer Protection Act Press Conference
I was pleased to participate in a press conference with Senate and House colleagues regarding the Taxpayer Protection Act (TPA). I am the prime sponsor of Senate Bill 7, the TPA, which would limit – not reduce – the growth in state government spending. I'm also happy to be a cosponsor of Senator Bartolotta's Senate Bill 116, the TPA Constitutional Amendment fashioned after my SB 7. The Commonwealth spends $1,370 every second under the current state budget. In 1970, PA's state budget was $2.6 Billion dollars. In 49 years, PA's population has grown 7.86% while the state budget has increased 1,165.5%. Watch my comments below.
Honored to Receive Marsy's Law of PA Guardian of Victims' Rights Award
I was honored to receive the Guardian of Victims' Rights Award from Becca Zelner of Marsy's Law for PA and Lebanon County District Attorney Dave Arnold for my co-sponsorship of Senator Sabatina's Marsy's Law, Senate Bill 149, the Crime Victims' Bill of Rights Constitutional Amendment.
We have a clear path in the Constitution on how the accused are to be handled as they have rights, and I think it is equally important that the victims have a clear path as to how they should be treated. Victims have rights, too, and this is a common-sense, well-vetted and clear-cut way to better protect victims in Pennsylvania. You can read the Marsy's Law for PA press release here.
Colebrook Rd. (Lebanon) Improvement Project Public Display
The Pennsylvania Department of Transportation (PennDOT) is planning road improvements to Colebrook Road (SR 0241, Sec 015), North and West Lebanon Townships, Lebanon County. As part of PennDOT's public outreach program, the plans for the project will be on display in an open house format from 6 p.m. to 8 p.m. on Tuesday, June 11 at the North Cornwall Township building located at 320 S. 18th St., Lebanon. The purpose is to obtain public input, and attendees will have a chance to review the specifics of the project, as well as speak with members of the PennDOT design team.
21st Century Community Learning Center Grants
21st Century Community Learning Center (21st CCLC) Grants were recently awarded by the PA Department of Education. The intent of the 21st CCLC program is to support the creation of community learning centers to provide academic enrichment opportunities during non-school hours, particularly for students attending high-poverty and low performing schools. The program is to help students meet state and local student standards in core academic subjects, such as reading, math and science, offer students a broad array of enrichment activities to complement regular academic programs, and offer literacy and other educational services to the families of participating children. Awardees serving the 48th Senatorial District include:
Intern: John Brettler, of Palmyra, Lebanon County
I was pleased to introduce John Brettler, who is interning in my Harrisburg office this summer. John, the son of Robert and Sandi Brettler, is a 2018 graduate of Palmyra Area High School and is entering his sophomore year at Penn State University Park with a dual major in political science and economics. You can listen to my introduction here.
Susquehanna River Basin Commission Meeting
The Susquehanna River Basin Commission (SRBC) will conduct its quarterly public business meeting Friday, June 14 at 9 a.m. at the SRBC headquarters, 4423 N. Front St., Harrisburg. The Commissioners will act on the following: 17 project applications, election of new officers, expense budget for Fiscal Year 2021, member allocations for FY 2021, approval of grants and agreements, emergency certificate extensions, adoption of the Water Resources Program for FYs 2019-2021, and amendment of the Comprehensive Plan for the Water Resources of the Susquehanna River Basin. SRBC's guidelines for quarterly business meetings include:
Attendees must sign-in and show photo ID
Signage, posters, banners or other display media will be permitted only in designated areas
The press will be permitted to set-up and use video and recording devices in a designated area. The public will be permitted to use small, hand-held devices that remain in their possession and are used in a non-disruptive manner.