June 24, 2019
Senate State Government Committee Activity
The Senate State Government Committee, which I chair, held a voting meeting to consider the following legislation. All bills were reported to the full Senate for further consideration. You can watch the meeting in its entirety below.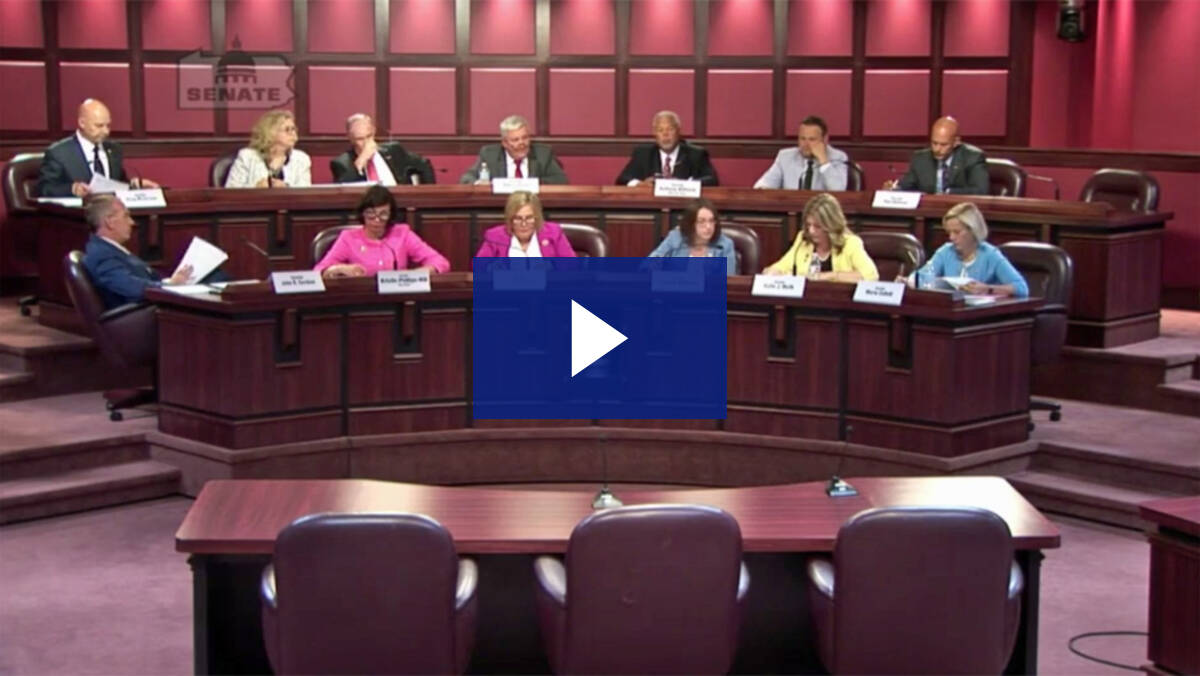 State Champions: Central Dauphin High School Softball Team
I was honored to introduce, along with my colleague from the 15th Senatorial District, Senator DiSanto, an outstanding group of athletes from a school district we both represent: the Central Dauphin High School softball team, who claimed the 2019 PIAA State Class 6A Championship! The team demonstrated superior sportsmanship and remarkable athletic abilities, finishing their championship season with 25 wins and only two losses, clinching their first softball state championship ever after two three-hour rain delays with a 3-1 victory over Hazleton. Watch Senator DiSanto's and my introduction below!
PA Dept. of Health Launches Medical Cannabis Research Program
The PA Department of Health (DOH) has launched the first-in-the-nation research program for medical cannabis, announcing the first three approved clinical registrants to work with approved universities to conduct clinical research on any of the 21 approved medical conditions. In July, DOH will bring together the eight academic clinical research centers and three clinical registrants to discuss what research they will be conducting and how the outcomes will help patients. The three clinical registrants are:
PA Options for Wellness, Inc., affiliated with Penn State College of Medicine, Hershey
Agronomed Biologics LLC, affiliated with Drexel University College of Medicine, Philadelphia
MLH Explorations, LLC, affiliated with Sidney Kimmel Medical College at Thomas Jefferson University, Philadelphia
Bills Pass Senate, Go to House
All bills passed unanimously unless otherwise noted.
Senate Bill 93 – establishes a second degree felony for delivering or distributing an illegal drug that results in serious bodily injury to the user;
Senate Bill 112 – limits prescriptions with opioids to seven days unless it would place the patients' health at risk;
Senate Bill 118 – (34-16) establishes the Recovery to Work Pilot Program;
Senate Bill 123 – "Karen's Law" to decrease revictimization for survivors of sexually violent crimes;
Senate Bill 166 – Fiscal-Year 2019-2020 Capital Budget Act;
Senate Bill 223 – permits EMS providers to leave a dose of Naloxone with a caregiver of a patient who overdosed;
Senate Bill 235 – appropriates $55,525,000 to the PA Department of State for the Bureau of Professional and Occupational Affairs ($9,581,000 to the State Board of Medicine; $2,564,000 to the State Board of Osteopathic Medicine; $420,000 to the State Board of Podiatry, and; $845,000 to the State Athletic Commission);
Senate Bill 236 – appropriates $70,364,000 to the PA Department of Labor and Industry for the Worker's Compensation Act and PA Occupational Disease Act, and $280,000 to the PA Department of Community and Economic Development Office of Small Business Advocate;
Senate Bill 237 – appropriates $1,795,000 to the PA Department of Community and Economic Development Office of Small Business Advocate;
Senate Bill 238 – appropriates $6,025,000 to the Attorney General's Office of Consumer Advocate;
Senate Bill 239 – appropriates $58,292,000 to the Public School Employees' Retirement Board;
Senate Bill 240 – appropriates $37,060,000 to the State Employees' Retirement Board;
Senate Bill 241 – appropriates $2,929,000 to the Philadelphia Parking Authority;
Senate Bill 242 – appropriates $75,533,000 and $5,552,000 in federal funds to the Public Utility Commission;
Senate Bill 243 – appropriates $47,512,000 to the PA Gaming Control Board, $9,391,000 to the PA Department of Revenue, $29,686,000 to the PA State Police, and $1,460,000 to the Attorney General;
Senate Bill 321 – allows municipalities in a Third Class County the option to prohibit video gaming terminal (VGT) establishment licenses;
Senate Bill 432 – allows Medicaid Managed Care Organizations access to the Prescription Drug Monitoring Program;
Senate Bill 536 – establishes the Public Higher Education Funding Commission;
Senate Bill 572 – requires opioid patient treatment agreements for new opioid patients;
Senate Bill 634 – (49-1) establishes a Conservation Excellence Grant Program;
Senate Bill 661 – establishes the Commonwealth Specialty Crop Block Grant Program;
Senate Bill 675 – (41-9) provides for licensing of office-based Suboxone prescribers;
Senate Bill 724 – clarifies Act 5 of 2017;
Senate Bill 733 – appropriates $20,000,000 for a Lehigh/Northampton county science and education center.
Bills Pass Senate, Go to Governor
All bills passed unanimously.
Senate Bill 399 – establishes the Sexual Assault Survivors' Bill of Rights;
House Bill 276 – "Marsy's Law" to add a crime victims' bill of rights to the PA Constitution;
House Bill 315 – criminalizes female genital mutilation;
House Bill 384 – increases the fine for driving a vehicle without the proper endorsement;
House Bill 502 – aligns PA with federal law to ensure victims can attend proceedings against abusers;
House Bill 504 – expands the rape shield law;
House Bill 1166 – provides a rate increase for the River Pilots of the Delaware River.
Executive Nominations Confirmed by the Senate
All were confirmed unanimously unless otherwise noted.
PA Liquor Control Board – Mary P. Isenhour, Harrisburg (45-5)
PA Fish and Boat Commission – Charles J. Charlesworth, Clarks Summit; William J. Gibney, Honesdale; Eric C. Hussar, Lewisburg; Richard S. Kauffman, Leesport, and; Dan J. Pastore, Fairview
Health Policy Board – Robert A. Armstrong, Jr., Hershey; Andrew Bloschichak, Mechanicsburg; Lisa B. Frank, Pittsburgh; Tammy J. Lininger, Greenville; Vic J. Navarro, Doylestown; John P. Scullin, III, Adamsville, and; Alice M. Yoder, Columbia
Industrial Board – David P. Abel, Scranton and Donna L. Suskie, Halifax
Professional Standards and Practices Commission – Mark R. Anderson, Columbia; Brandon G. Aukamp, Elizabethtown; Michelle F. Duggan, Mechanicsburg, and; Stacey L. Marten, Lancaster
State Employees' Retirement Board – Gregory C. Thall, Camp Hill
State Transportation Commission – Ronald J. Drnevich, Harrisburg; James D. Kingsborough, Carlisle; John W. Mast, Telford; Frank E. Paczewski, Dallas, and; Paige M. Willan, Philadelphia
Bills Signed into Law by the Governor
Act 6 – House Bill 275 – changes the name of the Early Intervention Program to the Strategic Management Planning Program;
Act 7 – Senate Bill 115 – requires CPR instruction for high school students;
Act 9 – House Bill 619 – establishes "Juneteenth National Freedom Day" in Pennsylvania.
Bill Vetoed by the Governor
House Bill 800 – increases the amount of tax credits available under the Educational Improvement Tax Credit (EITC) program by $100 million (with an automatic escalator).
It was a pleasure speaking to the World Affairs Council of Harrisburg 2019 interns on the Senate Floor with my colleague, Senator DiSanto, when the group visited the Capitol.
48th Spotlight: Lebanon County Carpenters Training Center
In my most recent "48th Spotlight" we feature the Keystone+Mountain+Lakes Regional Council of Carpenters Training Center in Lebanon County! One of five Carpenters Training Centers in Pennsylvania, this facility is a workforce training gem in the heart of the 48th Senatorial District. Check out the great opportunities offered by the KML Brotherhood of Carpenters in the video below!
Student Shadow: Grayson Smith
On June 18, Grayson Smith, of York, had the opportunity to shadow me for the day at the Capitol. Grayson is a senior at York Suburban High School and the son of David and Dawn Smith. He played football, has a passion for history and politics, and has been active with the National Student Leadership Conference hosted by American University. You can watch my introduction here.